Lifelong management in the new era of MPS
The new era of management for progressive, complex, genetic conditions, such as mucopolysaccharidosis (MPS) disorders, hinges on the efficient coordination of each patient's healthcare team.1
Geneticists and/or metabolic specialists are typically at the centre and help to coordinate multidisciplinary care and an individualised management plan.2,3
Given the high prevalence of ocular manifestations and the potential for surgical intervention related to corneal transplant, ophthalmologists should play a role in the multidisciplinary medical team.4
In patients with MPS disorders, the benefits of coordinated care may improve many aspects of a patient's – and a family's – outlook over the long term.3,5
Many MPS disorders have available management guidelines and
speciality-specific consensus recommendations regarding lifelong management of MPS. Guidelines typically recommend the following:3,5
Comprehensive baseline assessments (e.g. speciality-specific evaluations, functional performance and disease burden) by appropriate specialists

Regular, defined monitoring intervals to assess multisystemic disease progression
Early and ongoing assessments from a coordinated-care team can improve patient outcomes and may help prevent irreversible damage.5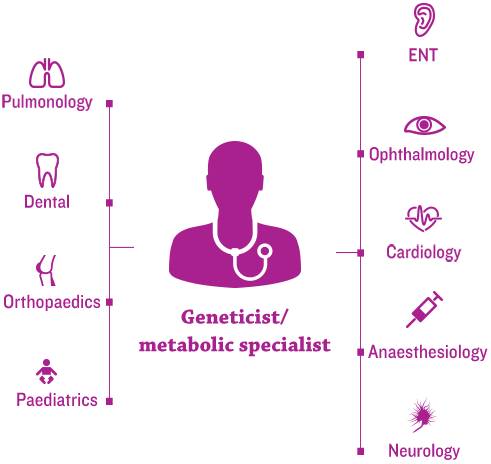 The table below details the basic and optional tests for ocular assessment of children with MPS.
Ophthalmologists should be aware of potential difficulties with certain ongoing assessments:
4
Visual field can be difficult to assess because of poor cooperation

IOP may also be falsely high because of corneal rigidity

Glaucoma is often difficult to diagnose because of corneal opacities
These diagnostic problems may help to explain why there is limited knowledge of the benefits and risks associated with antiglaucoma therapy in children with MPS. Some reports showed improvements in IOP or vision after medical or surgical treatment of glaucoma, while others had less successful outcomes.4
For further detail regarding these basic and optional ocular assessments in children with MPS, consult the management guidelines.
Ongoing monitoring can help to optimise patient outcomes through long-term management of ocular symptoms, which may include:4
High hyperopia

Corneal clouding

Peripheral vascularisation of the cornea

Retinopathy

Glaucoma

Optic nerve swelling and atrophy

Progressive pseudo-exophthalmos

Hypertelorism

Amblyopia

Strabismus
Nonocular causes of visual impairment, such as cerebral visual impairment, may also occur in patients with MPS.4
Simple interventions such as the use of prescription glasses or photochromatic glasses can considerably improve quality of life in children with MPS.4
Of note, ocular manifestations have been described in all subtypes of MPS, but are particularly common in patients with MPS I, VI, and VII.4
Over 90% of patients with MPS I and MPS VI have hyperopia4
Ocular motility problems are relatively common among MPS subtypes and could be secondary to reduced vision from multiple causes, including optic pathway damage attributed to increased intracranial pressure or to abnormal orbits4
Given the phenotypic differences across and within MPS subtypes, ocular assessments should be tailored to the patient's individual situation, taking into account his or her age and the presence of influencing factors such as:4
Frequency of assessments and involvement of specific specialists vary across the different MPS types. For patients with MPS diseases associated with primary neurodegenerative and cognitive complications, such as MPS I, II, and III, additional and regular neurobehavioural and psychiatric evaluations are recommended.5,7,8
In addition to speciality-specific assessments that should be done to facilitate positive long-term outcomes for patients with MPS, important steps can be taken by the coordinating physician, typically the geneticist and/or metabolic specialist, related to general health. Their role in educating other healthcare professionals (e.g. dentists, physiotherapists, paediatricians, family doctors) and families about the disease and general management strategies is critical and should include:
Discussing the risks and benefits of intervention and necessary precautions with treatments and evaluations3

Dental considerations

The wide range of craniofacial and dental abnormalities, which varies by MPS subtype, may or may not predispose patients to an increased risk of dental disease9
Close monitoring of dental development (at least annually) and regular dental care to prevent caries and attrition of the teeth3

Overall health interventions, which may include supportive therapies such as regular influenza and pneumococcus vaccinations, bronchodilators, and aggressive and prompt treatment of upper respiratory infections3
Speciality-specific assessments, as well as regular physical examinations and overall health interventions, should follow recommended guidelines, which may vary among MPS subtypes.3
Continuity of care into adulthood optimises long-term outcomes
Improvements in the treatment of MPS disorders are contributing to long-term outcomes for patients, necessitating new approaches to lifelong management.
As patients age, some may begin to manage their own healthcare, making physician-guided transition to the adult setting critical.3 Physicians should ensure the following:
Early and ongoing assessments from a coordinated care team to evaluate disease progression across organ systems5
Maintenance and assessment of patient's ability to perform activities of daily living5
Formal, site-specific transition strategies, including identification of adult specialists with long-term MPS management experience3
That patients are not lost to follow-up3